Environmental gain is one of the most important drivers today. Materials are becoming scarcer and there is a growing sense of urgency about the environmental damage caused by our human actions. Both clients and contractors in the construction and real estate sector are keen to apply sustainable and circular solutions and have high ambitions in this area. A key challenge is to uniformly demonstrate what reductions are possible to achieve these goals.
Easily draw up your LCA and EPD with our webapplication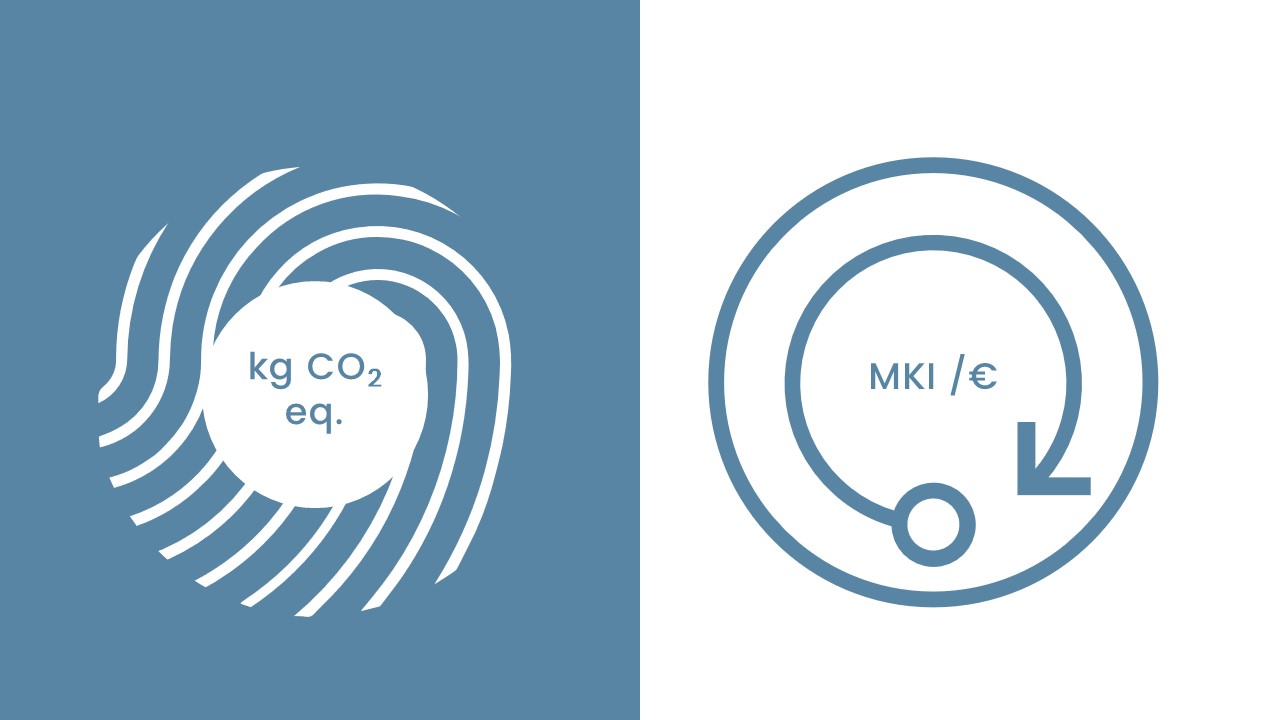 Overview, insight, future perspective
Whether you want to make a project-specific calculation or calculate the environmental impact of your entire product portfolio, R<THiNK  
is a ready-to-use solution with LCA building blocks predefined by independent experts;
requires no substantive LCA knowledge to get started right away;
provides an up-to-date service of environmental profile databases where your company-specific databases, calculations and real-time results are truthful and reliable
The environmental impact of your product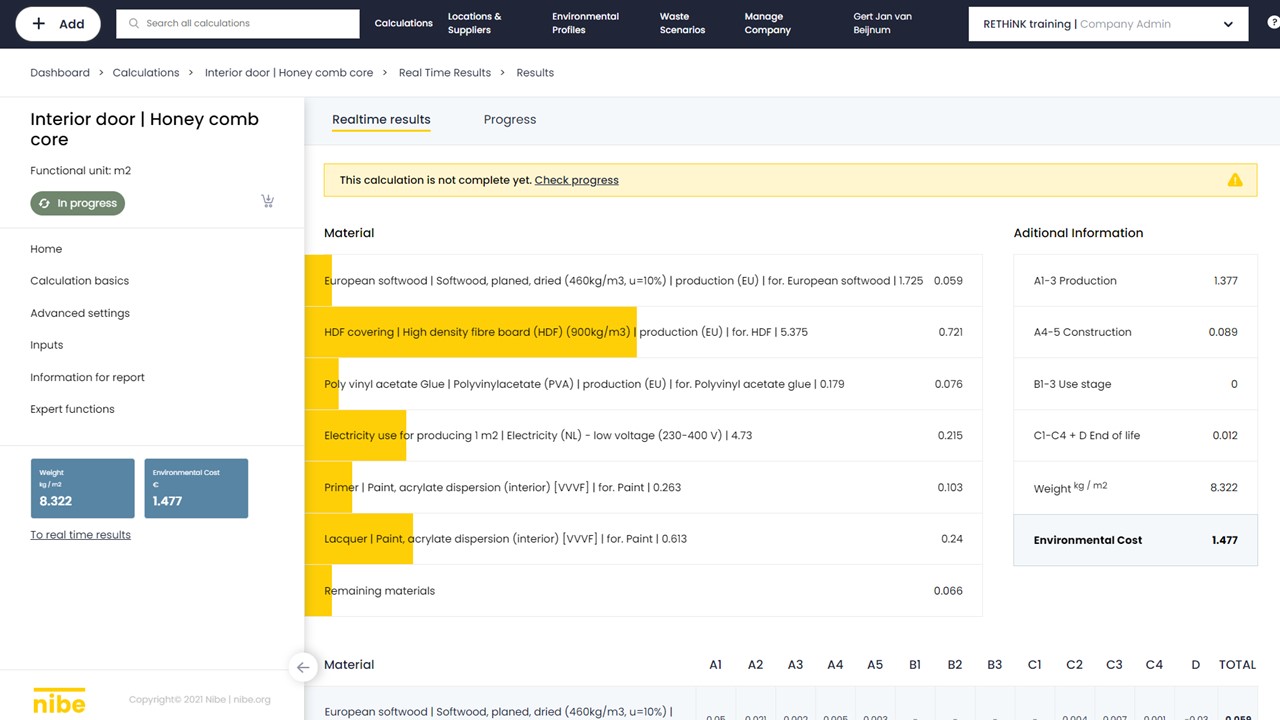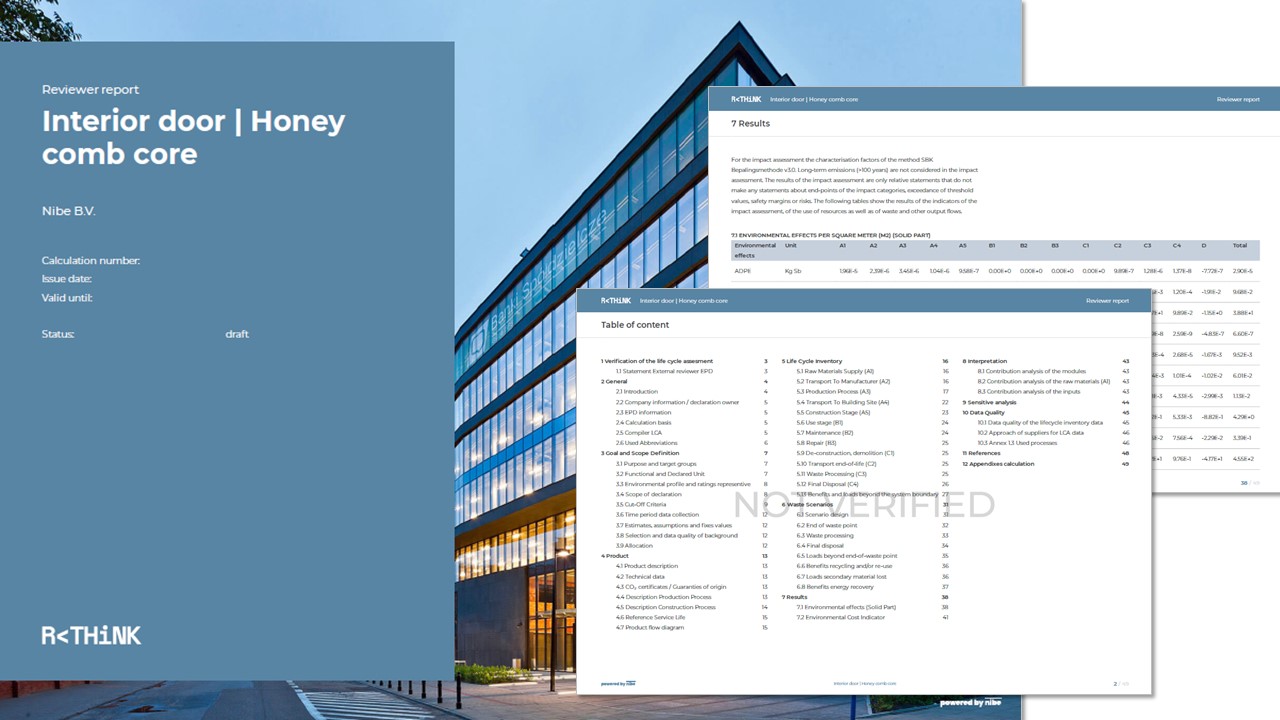 LCA information is of interest to anyone interested in helping the environment
A life cycle assessment (LCA) provides insight into the environmental impact of a product across the chain. The LCA shows where costs can be saved by identifying and improving inefficiencies in the product, the process and in the life cycle value chain.
Intuitive menu structure;
Clear user dashboard with database updates and NIBE messages;
LCA building blocks (pre)defined by LCA experts;
Real-time insight into environmental impact so you can optimize (and compare);
Import and export functionality;
Extensive reporting templates and formats;
Up-to-date service environmental profile database (legislation, latest insights and techniques);
Integrated review option (for review by independent third party);
Automatically generated supporting (raw material) files that meet review requirements;
Fully equipped HelpDesk portal;
The new EN 15804+A2 has been added as an available method.
R<THINK dashboard
R<THINK environmental profile
R<THINK product composition
R<THINK realtime results
R<THINK review proces
4 steps towards insights
R<THINK basic training
R<THINK account
Order your license and create your company account
R<THINK calculation
Calculate the environmental impact of your product yourself
R<THINK insights
Evaluate and optimize the environmental impact of your product